You are here: Home » Urban News , Usher-Tameka » MRS. USHER RAYMOND HAS THE HANDCUFFS ON HER MAN !
By Premier on Wednesday, March 26, 2008 with 0 comments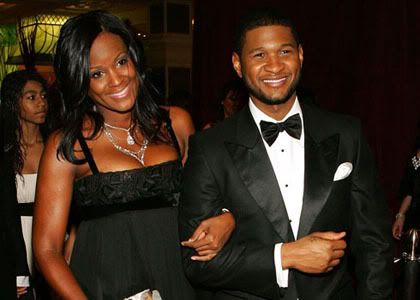 USHER'S wife, Tameka Foster, isn't going to let any woman make moves on her man - even if that's her job.
Foster was "domineering" and displayed her trademark "Tameka wrath" during a video shoot for Usher's new song, "Love in the Club," the weekend of March 15 in LA.
Our on-set source said Foster was upset when she found out stunning singer/songwriter Keri Hilson was personally picked by Usher to play his love interest in the video.
"It was supposed to be a sexy video shoot," our spy said. "And Tameka was there the entire time guarding like a watchdog. It was ridiculous - she knows Keri and knows she's no video ho or Karrine Steffans." Steffans, nicknamed "Superhead," wrote the book, "Video Vixen," about her alleged flings with Usher and several other artists.

"Tameka is very insecure," our source said. "Even in rehearsals she was weird and clearly not happy that Keri is so gorgeous. Tameka threw a lot of attitude. The day of the shoot, Tameka dressed Keri very badly - she looked like an extra. Tameka wouldn't let Keri have her hairdresser there - she had to use the hairdresser who was doing the extras."
Many people are starting to wonder if this is infact a marriage of arragement.
Category: Urban News , Usher-Tameka