You are here: Home » Breaking News , R.Kelly Trial 2008 » R. Kelly is acquitted at child pornography trial
By Premier on Saturday, June 14, 2008 with 8 comments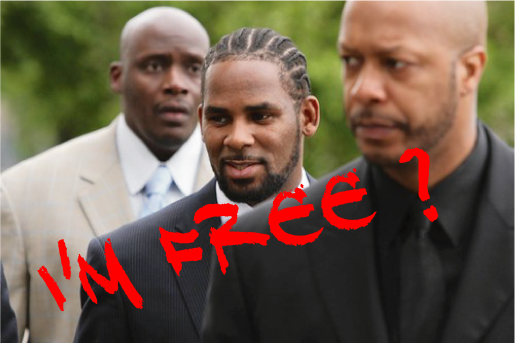 Wow…. This has been a long road for you the fans and the non-fans but it is finally in- R.Kelly is free Man…..Or is he?
A Chicago jury has acquitted R Kelly. of all child pornography charges after less than a day of deliberations.
The 12-person jury reached their verdict after just seven-and-a-half hours of deliberations.
Now that the trial is over, will this increase the celebrity of R.Kelly or will this make R.Kelly hated by hundreds of thousands. Not in the defense of R.Kelly or anything but , We all know that some of these girls are too HOT in the pants for their own good.
No blame on this little girl in this video but lets make her take the responsibility that we forced R.Kelly to do for these past few years. Now I will say this, R.kelly does need to get some help. We all know that R.Kelly has some problems and he needs help.
Let's not Judge this man any longer and get him some real live help.
What happen in the last day leading up the verdict see below:
The Grammy award-winning singer dabbed his face with a handkerchief and hugged each of his four attorneys after the verdict was read. The singer had faced 15 years in prison if convicted.
Prosecutors had argued that a graphic sex tape showed Kelly having sex with a girl as young as 13 at the time. Both Kelly, 41, and the now 23-year-old alleged victim had denied they were on the tape. Neither testified during the trial.
The prosecution's star witness was a woman who said she engaged in three-way sex with Kelly and the alleged victim. Defense attorneys argued the man on the tape didn't have a large mole on his back; Kelly has such a mole.
The month long trial centered on whether Kelly was the man who appears on a sexually graphic, 27-minute videotape at the heart of the case, and whether a female who also appears on it was underage.
WHY DIDN'T HE GET CONVICTED?
#1- This Trial went on entirely too long for R.Kelly to really get convicted in a case like this.


#2- What jury of his peers would convict him now after all of these Remixs and appearances that put him in a favorable light.

#3- Actually there may have been more videos but we only had a chance to see one or two videos that really didn't show a clear picture of who he was.

#4-The girl in the trail never really came forward like the other girls did in the previous cases. These girls seem to not even know what the jury was speaking of.

#5- Most people that wanted to convict him a few years ago has let the entire possibility go of him being a pedophile.
These are some of the reasons I believe, tell me how you feel about this case…..!
Category: Breaking News , R.Kelly Trial 2008