You are here: Home » Duane Martin » .::Black men in Hollywood gone mad::.Duane Martine announces he is gay !
By Premier on Friday, August 03, 2007 with 58 comments
As much as I want to not believe this story , but yes people, Duane Martin 37 husband of Tisha Campbell 38 has announced he is GAY ! Yes Gay!

Duane Martin and Tisha Campbell thought they were in marital bliss.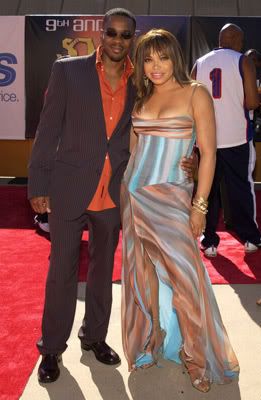 Now we are a Hip-Hop site that prides itself on the culture of Hip Hop. Where have we gone in Hollywood that all of the black men are running behind their woman's back and doing the do with men?

[It could be all these independent women out here] But we cant say that because the two has been in a 11 year marriage. ]


IS YOUR FAVORITE RAPPER NEXT TO COME OUT?


This topic calls for a black man think tank. Dont be surprised if you see their start to pop up special and reports about who else is GAY in the industry, [maybe Will Smith,Cuba Gooding.....hmmm?]



According to TMZ
, Campbell says-"It was the biggest shock of
my life," Campbell says. "I've heard women say they didn't know their
man was gay or bi and I wondered how they didn't know. But I really
didn't have a clue."


The couple has been married since August 17, 1996. This was one of the couples of black Hollywood that people could look at and pattern themselves after- and now look at it.

The 37-year-old Martin announced to his wife a love affair with another
male actor. This news devastated Tisha, 38.
Tisha expressed outrage but she was no saint
either. She also had previously acknowledged engaging in an alternative
lifestyle during their marriage. The couple has a six year old son, Zen.

[No Homo} We here at HHP.com are kind of upset because he was one of the reason Tisha left the Martin show with allegations of MARTIN was sexually harassing Tisha [Bull***]. Now we have to watch Martin in syndication!


But back to the story at and this is a shocking story and we want to here your feedback email us your fan comments. According to Comments@thehiphoppublicist.com

Category: Duane Martin